Attention Washington DC, Maryland, Virginia and surrounding area Rental & Staging professionals!
The Rental & Staging Roadshow Tour makes its final 2012 stop in our nation's capitol, November 28th. Come to the Roadshow for a full day of business and technical tracks, as well as exhibits, breakfast, lunch, and cocktail networking sessions.

SPECIAL SESSION FOR
RENTAL/STAGING COMMUNITY
Midori Connolly,
InfoComm
Rental & Staging Council Chair

Join Midori as she leads a Super Session Panel discussion on how the Council's role is changing now, vis a vis both industry as a whole and within InfoComm. The Panel will also explore trends in live event staging. Part II of the Super Session includes Professional Meeting Planners, sharing their insight.

Register now using the link below.
Come learn from:

InfoComm University Staff Instructor
Andre LeJeune, CTS,

Allen Weidman, InfoComm Sustainability Officer



Kevin Denzel, Technical Director at Swank Audio Visual, Southern Division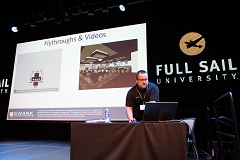 Kevin presenting samples of his work using LD Assistant, with a focus on CAD and packaging workflow, earlier this year at Roadshow-Orlando.


Walter E. Washington Convention Center | Hall E
801 Mount Vernon Place
Washington, DC